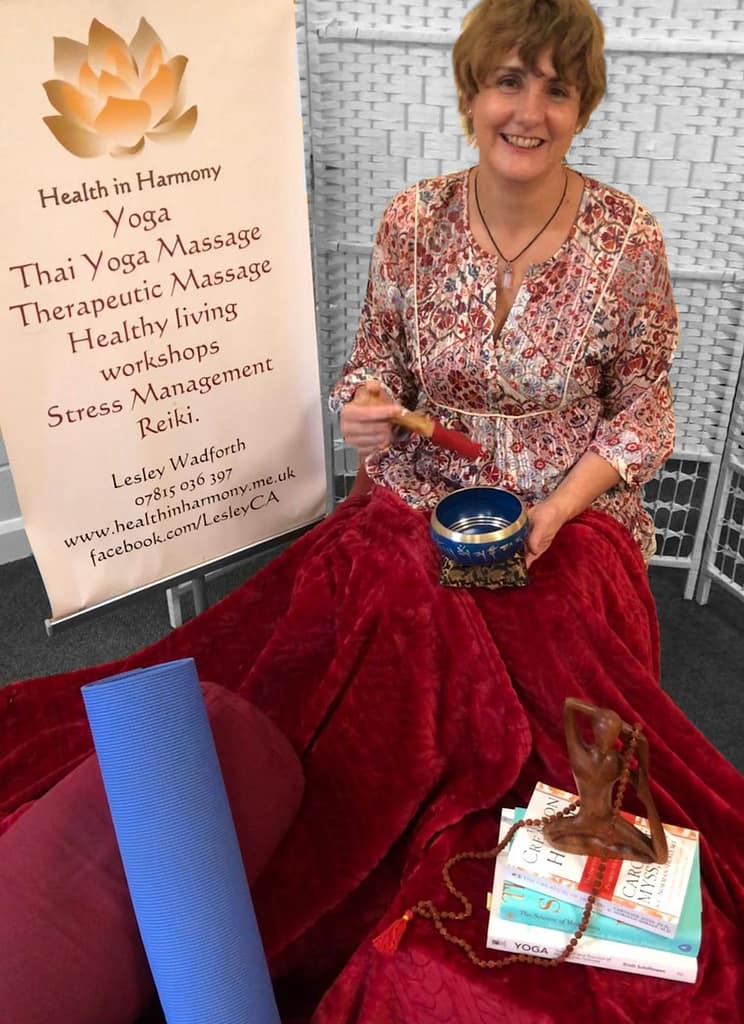 Back in the mid 1990's I finally took up yoga, after being interested since my teens.  From the very first session I loved it. As a busy Registered Nurse and mum to two youngsters at the time, I found the relaxation I felt by the end of the class to be the highlight of my week.  I initially took up the practice as I had a very painful neck following a car accident.  Two years of physiotherapy and pain medication had not helped very much, but yoga did.
I then moved from Australia back to the UK.  Although I loved my nursing work on the Neonatal Intensive Care Unit, I needed something for me.  At that time there were very few yoga classes around, all in gyms and not really offering what I had experienced in my classes in Australia.  I embarked on a 2-year yoga teaching training course at the Yoga for Health Foundation (now the Yoga for Health Foundation), enjoying residential training weekends. I loved the way we were taught, with the emphasis on what yoga could do for our health in all respects. This has vastly inspired the way I teach to this day. I feel that my nursing background is a real help in this regard too.  I have since completed many yoga trainings, including the British Wheel of Yoga Diploma, and specialised Menopause Yoga training.
Around the same time, I was also discovering the benefits of using Essential Oils and trained to become a Clinical Aromatherapist and massage therapist.  Later I added the wonderful Thai Yoga Massage too.
Although I had never intended to give up my nursing career, I found that there was more demand for my services as a therapist and yoga teacher and I set up Health in Harmony in 2000. I continued nursing as well for many years, but loved helping people on a one-to-one basis, and took the plunge to focus solely on Health in Harmony as a way to help as many people as possible develop the tools to become the best version of themselves.
I love learning. I continue to study continually to learn for myself and to offer high-quality classes, workshops, retreats and therapies.
Over the years, Reiki and Sound Healing have become very important to me and to my clients.
These days most of my work is with Women of all ages. My studies and personal experience have shown me that it is never too early or too late to prepare for a healthy later life. To reach out to as many women as possible, I teach regular workshops in your workplace, community centre, and often at your local hairdressers, on all subjects related to women's health, hormones and wellbeing.
I run two weekend retreats a year in North Yorkshire, and these are very popular – and necessary – to give women time back for themselves.
I enjoy combining my knowledge and expertise in Women's health, hormone balancing, stress management and sleep issues to help you become the best version of yourself.
Your session might be massage, or Reiki, Sound healing or a blend of aromatherapy oils to take home – or a bit of everything!
My logo is very important to me. It is the Lotus flower, and represents growth and blossoming. The lotus has its roots in the dark and murky mud of deep water, but keeps on rising towards the light and clear water to blossom, showing its beauty for the world to admire. I like this analogy with my own and your growth – we each have dark times in our lives, but we can learn to rise through it all and be at very best.
I firmly believe that health isn't 'one size fits all' and design my treatments, workshops and classes around making the therapy work for you.  I pride myself on being able to adapt everything I do to fit the individual.
My aim is to help you become the best version of yourself.
I look forward to meeting you very soon.
Former Registered Nurse and Registered Sick Children's Nurse.
Diploma in Yoga Teacher Training, Yoga for Health Foundation.
Advanced Diploma in Remedial Yoga, Yoga for Health Foundation.
Diploma in Yoga Teaching, British Wheel of Yoga.
Diploma in Nuad Bo-Rarn Thai Yoga Massage, Level one and two, ITM massage school.
Diploma Professional Stress Management and Consulting, Stonebridge College.
Diploma Clinical Aromatherapy, Member of International Federation of Clinical Aromatherapists.
Reiki Level 3.
Certificate in Thermal Stone Massage, Sue Lincoln School of Holistic Therapies.
Level 3 certificate in Delivering Learning, City and Guilds.
Gong Practitioner Level one and two, Satjit Singh, Gong Master.
Diploma in Integral Sound Healing, Sound Healing Academy.
Certificate in Menopause Yoga teaching, British Wheel of Yoga.